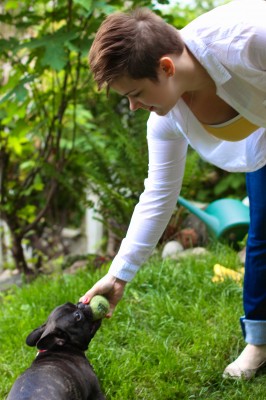 Many dogs and cats across the country are living in animal shelters and humane societies, desperately waiting for someone to adopt them and take them to a new home. Unfortunately, waiting for an adoption can take a long time for homeless pets. Many shelters and humane societies have begun the process of looking for volunteer foster families willing to take the pets into their homes for a limited amount of time.
Fears That Discourage Fostering
People that may be potential foster families often fear that they will become too attached to the foster pet and will have difficulty returning it to the shelter or humane society. While it is true that foster families often do become attached to the pet during the time spent together, they can take pride and satisfaction in knowing that they have provided a loving and stable environment for the animal.
Other potential foster families worry about the behavior of the foster pet with their family members or with pets already in the home. There could indeed be clashes of personality between the foster pet and existing family members or pets, but most animal shelters and humane societies try to place pets in homes that will be the best match of personalities. Despite these and any other fears, inviting a foster pet in the home can produce many benefits for both the pet and the family.
Potential Benefits of Fostering
1. Anytime and anywhere at very little cost – After passing a fairly simple background check, individuals and families can foster a pet just about anywhere. Most shelters and humane societies will select an appropriate foster pet for the home environment and resources available. Foster pets can live in apartments or houses and can be trusted to individuals or families. Available for long-term or short-term placements, shelters provide the animals with vaccinations, medicines, and other veterinary services, so the foster family is really only responsible for food and space for the foster pet.
2. A family pet try-out – Fostering a dog or cat for a brief period of time allows a family to learn a lot about owning a permanent pet in the future. For example, sharing a home with a cat for a few months helps a family to decide whether a cat is a naturally good fit as a pet for all the home's inhabitants. Family members will discover what it is like to own and care for a pet for a brief period of time without committing to forever providing for the pet. Similarly, a family may be interested in adopting a dog, and the fostering process will allow that family to try different breeds of dogs to discover which is the most compatible with the personalities of the family members.
3. Family entertainment and enjoyment – Although dogs are especially renowned for their cuddling and playing routines, cats can be equally entertaining in their actions. Playing fetch with a dog or spending time watching a cat chase a feather are enjoyable for both the pets and the families. These pets are also an excellent excuse to take extra walks, to explore new territory, and teach the pets new tricks. Families can bond over the common care and enjoyment that the foster pet brings to the home.
4. A new community – Pet foster families often seek encouragement and support from other foster families. Housing a foster cat or dog brings unrelated people together and helps form new friendships and bonds that otherwise might not exist. Additionally, caring for foster pets brings together pet owners of all types, whether they are owners or temporary guardians. Dog parks, for example, provide a space for all pets and give an opportunity for all pet owners and guardians to meet and build new relationships.
5. Saving a life – Kennels at humane societies and shelters become overcrowded and cramped, and families can help provide homeless pets a respite from those conditions. Medium-sized and larger dogs are frequently overlooked at shelters because they may seem too big or too unruly, and these are the dogs that are more frequently euthanized and not adopted. Families who foster these dogs can effectively save these dogs' lives while they are in the foster home.
Fostering a pet can be one of the most rewarding opportunities that a person or family can experience. Both the foster family and the pet can benefit from a unique and nurturing situation when a dog or cat is invited temporarily into the home. Through the time spent together and the bonds that are formed, foster families have the ability to change and save the life of a dog or cat.
Lauren Colman serves as the digital marketer for the dog boarding and dog sitting community at Rover.com and is a true dog lover at heart. Lauren spends her days at the office with her dogs Squish and Brando by her side. You can follow Rover.com on Twitter @roverdotcom or on their blog, Dog Boarding News.