I've had my share of Shiba escapes over the years, which is why I've written posts like Making the Most of Companion Identification Methods and Tagg – The Pet Tracker aka The Shiba Owner's Peace of Mind. My youngest Shiba, Zuki, is a master escape artist though. I've never had to work so hard to keep a Shiba safe at home!
Why I Built a Cable Run, Even Though I Have a Fenced Yard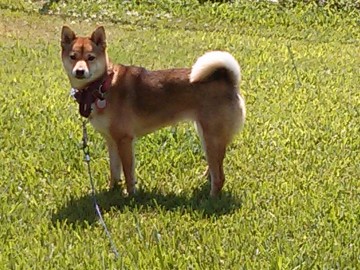 When we first adopted Zuki, she escaped from the back yard a couple times. (We managed to catch her, but only because she escaped out the back and ended up in a huge flood ditch that she couldn't get out of own her own.) She was going under the fence, so I had some guys attach chicken wire to the bottom of the fence and trench it into the ground, all the way around the yard – no more holes and no more digging! Everything was fine for a month or two until I came home from work one night and a cute little dog was staring at me from inside my neighbor's back yard. I walked over to say hello and IT WAS ZUKI!! As soon as I got close to the fence, she leapt over the fence and into my arms. (My dogs live in the house. My daughter was home and had let Zuki outside just a few minutes before I came home and discovered her in the neighbor's yard.) After that, we only let her out in the yard dragging a 15 foot training lead. We'd stay outside with her and, if she tried to jump over the fence, we'd grab the lead first. That worked great. Until one day when it didn't. I was outside with all three dogs, Zuki decided to jump the fence, and I didn't make it in time to stop her. I had to run through the house and out the front to chase after her. By the time I got out there, she was long gone. Luckily, with the help of neighbors, I tracked her down about 20 minutes later. The training lead still served a purpose too… I probably wouldn't have been able to catch her if she hadn't still been dragging it.
After that, the rules changed again — Zuki could only be outside if one of us was holding the other end of her lead or it was secured to the house. That limited her outside fun though, and she stopped getting enough exercise. Enter my brilliant father and his excellent solution. For ~$100 we built a 100 foot cable run for her that gives her plenty of running room and keeps her safely inside the fence.
Why not just use a stake tie out? First, I wanted something permanent, that I wouldn't have to deal with removing every time the lawn guy comes to mow. Second, I wanted her to have a lot of running room, but not be able to reach a fence, so I needed a long thin space, not a circular space. Last, I wanted to minimize the possibility of her wrapping the cable around herself or anything else.
Recently, I was having an email conversation with a reader who has a young Shiba that escapes easily, like Zuki. She felt like restricting her freedom was making her more likely to look for ways to escape. She needed a way to safely give her pup some room to run. I suggested building a cable run like Zuki's, which is what prompted me to put all the details together in this post.
Parts and Tools Needed