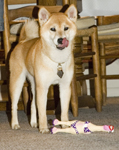 Secret has really adjusted a LOT since I posted her first update. She's so much more confident walking in the city now and she's much less skittish when people reach to pet her. She seems like a different girl from the one that came to live with us a few months ago. She's definitely gained some confidence. When she first arrived, she would stare at us with this look that said "what's going on?" and we felt like she was unsettled and concerned. Now, the look we get is more like "can I have treats?" 🙂
She still barks at noises in the hallway and gets worked up when someone comes to the door, but not the way she used to. Plus, the protective/fear biting seems to be a non-issue now that she is settled in. At first, she was very wary and on guard with anyone that came in the apartment, especially men. She's calmed down a lot though – between us having visitors (and watching and managing her with them of course), us taking her and Snick along to visit friends for dinner and other occasions, and also taking them both with us for the family holiday get together (4 days in a mountain cabin), she seems to have learned to "roll with it" when strange things happen.
The neatest thing about all of this though is that it wasn't really anything we did. The majority of it came from her relationship with Snickers! Case in point, Miss ~T~'s father (we'll call him Marc) came to visit recently. This was the first time he had met Secret. I was at work when he arrived, but ~T~ said that Secret hung back and just watched the way Snickers interacted with him for several minutes. (Snickers knew Marc when he was a puppy, before Marc moved to Europe.) Then Secret went up to him, sniffed him a little, and then KISSED him; she was totally fine around him the whole weekend! That is a complete shift from the way she watched and followed men with complete suspicion (and then bit them) when she first came to live with us. Yay, Seeky!
Now, if T would just teach her to STAY…