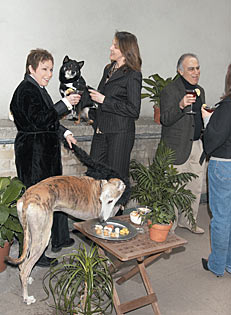 Yes, I am certifiably insane.
People ask me sometimes how I deal with the whole single mom with two dogs and two jobs thing all whilst living in midtown Manhattan. I usually shrug and go "eh, it's not so bad," meanwhile knowing it probably isn't normal that I (1) almost never sleep more than 6 hours a night, (2) haven't had time to sit down and read a book in several years, and (3) only take vacation time from my real job when I need to do something for Miss ~T~, catch up on my freelance work, or clean my apartment. Oh, and have I mentioned that I'm also the treasurer for my local, private dog run and the organizer for the NYC Shiba Inu meetup group?
So… that said, I suddenly decided about six weeks ago that it would be fun to have one of my Shiba meetups be a "canine cocktails" event.
Ahem. Yeah, right. Me and my SIMPLE ideas.
On Tuesday, March 20, at 7pm, the NYC Shiba Inus are hosting EIGHTY PEOPLE – yes, that's 80 people – at a fund raiser for Animal Haven Soho. If you google canine cocktail pawty, you'll get an idea why so many people have bought tickets already. Plus, this doesn't show up in Google yet, but we were featured on a FULL PAGE in Time Out New York! How awesome is that? (It looks better in print.)
If it goes well, which it seems that it will, it may become a regular event. It has its own website and I may even have a corporate sponsor lined up for next time! (More on that if it pans out.)
Anyway, wish me luck. I'll be taking a LOOOONNNNG NAP when this is all over. 🙂