I have joked for a long time that Snickers is the Shiba Ambassador to NYC because so many people stop me on the street to find out what kind of dog he is. I have talked to people from all over the world about Shiba Inus.
Snick took his ambassadorial duties to the next level a couple weeks ago by deigning to be fawned over by hundreds of people at the AKC's Responsible Dog Ownership Day in Madison Square Park. He was an incredibly good and patient boy and I couldn't have been more proud of him. I'm so lucky to be owned by such a great dog.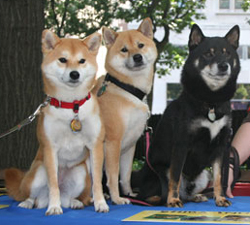 To read more about what a successful event this was, please visit NYC Shiba Rescue's blog.