cross-posted from NYCSR's blog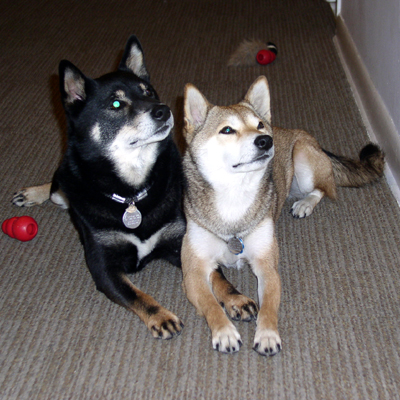 OK, first off, I have to say that the sound of two Shibas merrily destroying roasted lamb bones is almost as soothing as a stable full of horses chomping on their feed. 🙂
Today is Shay's birthday. She's THREE today. My special birthday present to her is… a brand new, wonderful, forever home! The main reason we've had Shayna as long as we have is because I took her off the available list over the holidays while I contemplated adopting her myself. It was a TOUGH decision because Snick and I are very attached to her and she's clearly attached to us too. I finally decided that I'm too busy at this point in my life to give two dogs all the attention and training they need though. Shayna is sooooo affectionate, too; she needs a lot of loving from her humans, so I decided to find her a home where she would be LAVISHED with all the affection she could possibly ask for.
We've received a lot of applications for Shayna and one really jumped out at me a few weeks ago. After getting through the approval process, they came over this past weekend and spent several hours getting to know her. She was a little overwhelmed by all the attention and kept checking in with me, but she was definitely warming up to them by the time they left. I love that they understand it will take time for her to adjust to a new home and they've been asking me all the right questions about how to help her with the transition.
So, this Sunday I will be driving her to her forever family in NJ.
Happy Third Birthday Shayna. Snick and I will love you forever.