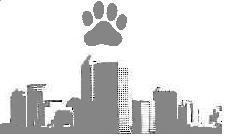 Snickers and I went to our first Indiana meetup last weekend. It wasn't a Shiba meetup, unfortunately, because I haven't yet figured out where we're going to hold those. It was a general meetup, but with a twist. It's a new group in Indianapolis called the Downtown Dog Walk, which gets together every Sunday night and walks along the canal or through downtown to a bar or restaurant with outdoor space and then hangs out outside.
You know how people say New Yorkers are rude? And, of course, we New Yorkers can't figure that out because we're SO NICE. We think the tourists are rude because, well, they're always in the way. And GEEEEZ they take FOREVER to do or say anything. Clearly, if you look at what I just said objectively, you can see that it's just cultural. New Yorkers are speedy and efficient. Outsiders think that's rude, while we think you're being rude when you slow us down. 😛
Apparently doggy etiquette has regional differences also!
I've always been proud of how well socialized Snick is (for a Shiba). He had tons of friends at our dog run in Hell's Kitchen and a ton more in our Shiba Meetup group. He's never been friendly with random dogs on the street, but it didn't matter too much because New Yorker's have a pretty strict code of sidewalk etiquette for dogs… Most dogs in NYC are kept on a short leash under close control of their humans. Sidewalk greetings are controlled, if they are allowed at all. Most people I know accept this as normal, as is the fact that dogs aren't that comfortable greeting each other on leash anyway. Leashes restrict their movement and therefore their body language. They can't follow the proper routines for meeting and getting to know each other and they also cant fight or flee if necessary. Therefore many dogs are defensive when meeting for the first time on leash and they get snarky with each other.
Imagine my surprise when I walked up to the meetup last weekend and people were standing around letting their dogs run all over the place! Some of them had a good 10 feet of leash and none of them were under control of their owners. A couple of them dashed up to Snick as soon as we got there and, of course, Snick tried to put the smack down on them for being so brash. Honestly, I was little taken aback when no one apologized to me for not controlling their dogs. I took a few steps back away from the group though and assessed the situation. "Hmmmm…." I thought. "These dogs are all running around willy nilly. These dogs are pretty much getting along with each other this way. Do all these dogs know each other already? Doubtful. These dogs have learned to meet and greet on leash! This is normal for them!"
So… I found myself in a position of explaining to people that, although Snickers is quite a social boy, he's not at all used to being around other dogs on leash. Once the group started walking, Snickers did much better (although he did want to walk up front). We walked with the group organizer and his very friendly dog. Snick was clearly happy and comfortable to be walking on sidewalks, between buildings, and around cars again. 🙂 The rest of the meetup went fine and I learned that doggy etiquette rules can be different in different places, just like human etiquette rules are!
And, yes, we're going back this weekend. After all, we need to practice our on leash behavior!