How Dogs Think
What the World Looks Like to Them and Why They Act the Way They Do
by Stanley Coren
[rating:4.5]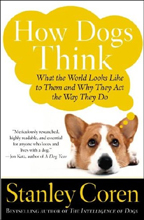 In any and all training and behavior endeavors, my primary interest is understanding as much as possible about what Snickers is communicating to me and how he is perceiving what I am trying to communicate to him. Several of my recent book purchases have been on this subject. When I picked this book up in the store, I was impressed by the following three testimonials on the cover.
"Coren's love for dogs shines like a beacon throughout this thoughtful and fascinating exploration of the mind of a dog."
– Patricia B. McConnell, Ph.D., author of The Other End of the Leash

"The thinking dog owner's guide to everything they ever wanted to know about their dog. Truths expanded, myths exposed, common sense prevailing. Dr. Coren tells it the way it is. Two dew claws up for the this excellent book."
– Nicholas H. Dodman, BVMS, MRCVS, DVA, author of The Dog Who Loved Too Much and If Only They Could Speak

"Meticulously researched, highly readable, and essential for anyone who loves and lives with a dog."
– Jon Katz, author of A Dog Year
Of course, I brought it home and read it and now I have my own good things to say about it.
How Dogs Think is full of details about the physiology of dogs' perceptions. I've always known that dogs don't see, hear, feel, taste and smell the same way we do, but I didn't have any information on how they do experience the world. After reading this book, I have a much better idea of how dogs experience their environment (and our actions), why they react the way they do and how they communicate back to the world. If you want to learn as much as you can about how your dog interprets and responds to the world around him, add this book to your library (and read it). Here are a few interesting facts and quotes from the book.
Regarding Senses

A normal dog's visual acuity is about 20/75. Dogs have excellent motion perception but motionless prey is effectively invisible. The canine field of view averages 240 degrees (compared to 200 degrees for humans). Dogs see the world in various shades of yellow, blue, and gray.


"…dogs use their eyes mostly for the chase; they guide the dog to its fleeing quarry and help him to accurately guide his jaws to grab it. Any other information that the dog gets from vision is just a bonus. The mind of the dog is filled with lots of information about the world, but most of that information is not in the form of visual images."

Dogs can hear 48 notes higher than the highest key on a piano. (People can only hear a little over half that many.) This seems cool, but probably causes problems for our canine friends. Sounds that we can't hear at all and therefore don't guard against – like a high frequency shrieking from the motor of a power tool, for example – can be painfully loud for our dogs!
The part of the dog's brain that analyzes smells is forty times larger than a human's and they can identify smells possibly 10,000 times better than we can. They cannot smell and pant at the same time, however, so their ability to track by scent is hindered in warm weather.
Dogs gather a lot of information using their whiskers – called vibrissae – which is helpful since they are far sighted. When the whiskers are cut or shaved, it's disorienting for them.

Regarding Communication

One of the most fascinating things I learned about in this book is "neoteny." Neoteny is defined by The American Heritage Science Dictionary as the retention of juvenile characteristics in the adults of a species. In the book, Coren explains that as humans domesticated dogs, dogs evolved to be more similar to wolf puppies than to adult wolves – more playful, friendly, and willing to be trained. Basically, the selective breeding for easygoing personalities has also slowed the maturation process. Breeds with more neoteny are recognizable by one or more of several characteristics such as wider heads, rounder eyes, floppy ears, and shorter muzzles. The higher the number and extent of these characteristics, the more neoteny. Inversely, the more a breed looks like a wolf, the less neoteny exists.
Researchers studied ten breeds of dogs, ranked their level of neoteny and then tested their language abilities in relation to fifteen specific social signals related to dominance and submission. They found that – although all the breeds could interpret signals – breeds with more neoteny had less ability to communicate themselves and the few signals they did send were care soliciting signals… like puppies would use. The breed with the least neoteny in the study – the Siberian Husky – had a full social vocabulary and used all fifteen signals.


"…the more wolf-like a breed is, the greater the number of social signals it uses and the more likely its gestures are to be those of a mature wolf."

A big part of why I am so interested in canine communications is because Snickers is very communicative…. more so than any other dog I've known. Now I understand why!

Regarding Learning: There is an intriguing section on learning periods (neonatal, transition, socialization, and juvenile). The book also discusses personality and genetics in relation to learning, classical and operant conditioning, and even "teaching love."

Regarding Aging: Coren also discusses several aspects of the canine aging process and how it affects dogs (and the people who love them). There's great info here on how you can help your dog cope with the world as he ages.

Regarding Consciousness: The last part of the book delves into the question of canine consciousness, discussing memory, self-awareness, dreaming, "theory of mind," and even lying and deceitfulness.
These are just a few examples of the interesting and useful topics covered in the 317 pages of this easily readable book. If you share your life with a dog, I hope you'll read How Dogs Think. (And, if you do read it, or already have, leave a comment and let me know your thoughts.)