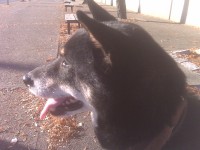 I've been spending all my "free" time (of which there is very little) working on the restructuring plan for NYC Shiba Rescue and recruiting volunteers to fill the new positions. Snick and I manage to post tidbits on twitter and facebook occasionally, but finding time to write a whole blog post has been difficult.
One thing that has been on my mind a lot is Humane Education. I was very excited during the summer, because Snickers and I had plans to work with our local shelter's humane education program. I was really looking forward to starting school visits in the fall. Well, long story short, the shelter doesn't really have a program. They have good intentions, but right now the only visits they wanted our help with were for fund raising events. 🙁
That got me thinking long and hard about humane education, how important it is, and how no formal, organized plan to teach our children empathy towards animals really exists. An idea popped into my head and I've been formulating a plan. I plan to start a new, national, non-profit organization to promote and support humane education – specifically to teach compassion and empathy for companion animals – in the public school systems across the US.
I'm considering naming it Animal Educators Alliance. I know it sort of sounds like people who educate animals though, so I'm not entirely sure. It means animals who ARE educators. We're not just teaching about companion animals. The animals ARE the teachers. What do you guys think? Good? Bad? Have any better ideas?
The primary objectives of the organization will be:
To create and distribute a standard curriculum to be used by schools and volunteers throughout the country.
To provide guidelines for volunteers and their animals.
To bridge the gap between schools and volunteers.
To eventually provide training and certification for various levels of volunteers.
Ambitious? Well, yeah. Impossible? I don't think so.
Thoughts? Volunteers? 🙂