One week ago today, my daughter and I added a third Shiba to our pack. Please welcome darling little Brandy (who we've affectionately started calling Ms. Brandywine, as it seems to really suit her).
Last Friday, I received an email about this little girl. She's 16 years old and had been surrendered to a shelter in Connecticut. This is a good shelter in a nice area with a policy of only putting dogs to sleep "that suffer from medical or behavioral conditions that are beyond treatment and render the pet unable to be placed with a family." Basically, she wasn't in any immediate danger, but Shibas don't tend to adjust well to shelters and the idea of a senior Shiba most likely living out her last days in a shelter was more than I could stand.
Her Story
Brandy was at the shelter for about a month. The young woman who brought her in said that her owner had died. She'd had Brandy for about a week but "didn't have time for her" and wanted her euthanized. The medical director at the shelter convinced the woman to sign her over as a surrender instead. Brandy's teeth were in really bad shape, so the shelter removed most of them; she only has three left.
These are the photos that the shelter took for her kennel card. She looks like a little raggamuffin. Unfortunately, she looked even worse in person. 🙁
Meeting Brandy
Early Sunday afternoon, I set off on the two hour drive to go get Brandy. When they brought her out to us at the shelter, we were delighted by the spring in her step but dismayed at her physical condition. She'd had diarrhea, some of which was still matted in her fur. She was severely underweight and her skin is horribly dry. As you can see, she's a "wooly (long coated) Shiba" and she was a dirty, matted mess. She kept looking around and checking every person that walked by as if she was looking for someone in particular, which made us feel really sad for her.
Making Progress
Our friend Zennia came over, Furminator in hand, the night Brandy came home. She brushed a big bag full of fur off of her that night and we've Furminated her several times since then also. She's looking better, but she has some mats that need professional attention and her TAIL is a disaster area. Here's a photo of her a couple days after she came home. Her eyes are a little cloudy and her tongue pokes out the side of her mouth where she has no teeth. Pretty cute really.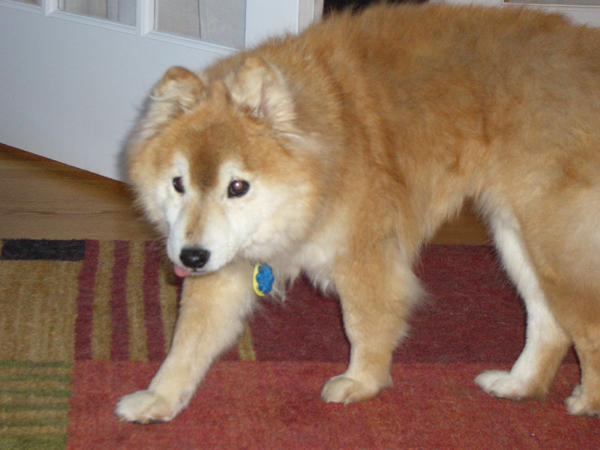 Brandy only weighed 11.5 pounds when she got here. The shelter was feeding her Science Diet I/D which, in my personal opinion is G.R.O.S.S. stuff. I've just finished transitioning her to what Snickers and Secret eat and, between that and having plenty of water to drink, she's put on a pound already! She eats really slowly (only three teeth, remember?) but she's gone from barely eating to cleaning her bowl in the past week, so that's a great improvement.
She's already easily walking twice as far on walks as she could go on her first night here. She's gaining stamina and building muscle tone!
She's stopped looking for whoever she was looking for and she seems to be growing attached to my daughter. Snick and Secret mostly ignore her and let her do her own thing. Snickers has snarked at her a few times for getting in his face, but he's getting better. He even tried to get her to play with him once recently.
Here's a photo of her looking pretty content a couple days ago.
What the Future Holds
We know that adopting a 16 year old dog is essentially setting ourselves up for a near future heartbreak, but we knew that when we decided to go get her. It's worth it to us. She's very well trained – house trained, gentle, an excellent leash walker, pees at the curb, enjoys grooming – and it's clear that someone loved this little dog very much. After a lifetime of providing companionship to someone, having her life turned upside down must have been very traumatic. She deserves the best we can do for her in whatever time we have her.
She has an appointment with the groomer in a couple days. (A Shiba at a groomers? I know. Weird.) I'll post more photos then and updates as she gains weight, grows stronger and visits the vet.