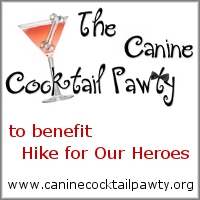 Snick and I are leaving for NYC tomorrow morning.
The Canine Cocktail Pawty to benefit Hike for Our Heroes has gone from random idea to reality in a matter of six weeks. It's been a lot of work on a hectic timeline, but it's really coming together and I'm excited! Now that the event is less than a week away – and I'm not quite so frantic with the planning – I'd like to share a little more about WHY this party is happening.
First off, as you all know, I'm a huge advocate of responsible dog ownership. Snickers and I are Delta Society Pet Partners (which means he is a registered therapy dog) and we spend the majority of our therapy visit time with children, teaching them empathy for animals by exposing them to what fantastic companions animals can be. I have a strong belief that human/animal interaction makes the world a better place. The benefits of the bond that companion animals can share with us is simply amazing to me. This event is a doggie birthday party for "Emmie the Superdog," a Shiba Inu who has walked over 2,500 miles by her human's side as he walks across America (and back). Emmie is a wonderful example of the companionship and support that dogs provide to humans every day. I want to celebrate that!
Secondly, Emmie's human, Troy Yocum, has undertaken a huge personal project to raise funds and awareness for military families in financial crisis. He started his Hike for Our Heroes a little over a year ago and, since then, he has changed the lives of about 40 families in need. I have a deep respect for the people who are willing to join the military knowing there is a chance they'll have to go into combat and potentially die. I grew up proud of the fact that my father had been an Army officer between college and career. When I married my (now ex-) husband, he was a young enlisted man. We spent the first couple years of our marriage living apart, because we couldn't afford for me to quit my job and live on base with him. The military life can be very difficult and it is certainly even more of a hardship during times like our current economic recession. Troy is making sacrifices to make a difference for people who need it. I want to show him that he is appreciated!
I've managed to organize this event, long distance and in a short timespan, entirely because I've had the help of some amazing friends who also believe in Troy's mission. I'm grateful for the assistance and support that has been shown by every volunteer and for every purchased ticket and each donation that has been made so far. I'm excited that we'll have a chance to celebrate the human/animal bond by "pawtying" on Emmie's birthday and that we can show Troy and his family how much we appreciate their selfless dedication to helping people. The one goal that isn't satisfied yet though is the desire to raise some real money for Troy to use in his mission. So far, Emmie's party is paid for (whew!), we have one $500 sponsorship check to give Troy at the event, and we plan to auction off three original paintings as well. That's a success and I'm certainly happy about it. I'd love to do so much more though.
In honor of Troy, his wife Mareike, their dogs Emmie and Harley, all the people who have helped them along the way on their mission, everyone who has helped me with Emmie's birthday party, and all of the military families out there in need because someone they love is, or has been, deployed during these trying economic times, I hope that, if you can afford to do so, you will consider making a donation at www.caninecocktailpawty.org to add to what we will present to Troy at the event. It would truly mean a lot to me for so many reasons!