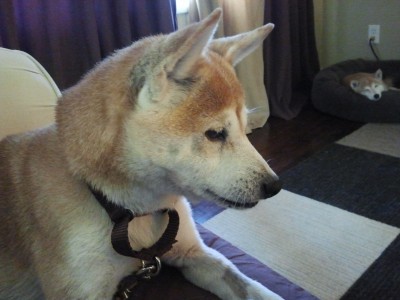 A lot has happened since I posted about Sasha a few weeks ago. To begin with, enough money was donated to pay her medical and boarding bill in full. (I actually have a small bit left over, which, if I don't need it for follow-up care for her, will either be donated to SIRRA or returned to donors proportionately.) When she came home from the vet, her skin and coat were already much improved and she had gained almost a pound and a half.
Sasha's Progress
Since bringing her home, I've been working on (1) slowly putting weight on her, (2) improving the health of her skin and coat, (3) playing lots of fetch in the back yard every day to build up her muscle, and (4) helping her learn to be less reactive around other dogs.
When she arrived, I'd been told she was very aggressive with her temp foster's dogs and with one of the transporter's dogs as well. Other than a few leashed meetings, where they couldn't get too close, we kept Sasha completely separated from our dogs for the first week. After a week or so, we started letting her hang out in the hallway behind a baby gate, so she and the other dogs could see and get used to one another. Sasha didn't seem aggressive at all to me, only reactive; when the other dogs get too close, she snarls and then barks to try to make them go away. This weekend, Sasha got to join everyone in the den for a movie. She stayed on leash and was very good. (Big props to my dogs – Snickers, Secret, and Zuki – for doing exactly as they were told and completely ignoring Sasha's presence.) Sunday morning, I brought Sasha into the den and let her hang out with me and my three Shibas for several hours… she even napped on the couch with Snickers and me for awhile.
If Sasha was younger, I would let Snick help me teach her not to be so reactive. He's trained young fosters who were afraid of other dogs, but Sasha is older and I think it would be too stressful for her. I'd rather just find her an adoptive home with no other dogs, so she can live in peace. I still think it's important to help her learn not to be so afraid and reactive while she's with me, but not necessarily with the goal that she'll go on to live with other dogs.
Sasha's skin, coat, and weight are improving rapidly and I believe I'll be ready to let her go to a new home by mid-July.
A Forever Home for Sasha
I'd prefer a home where at least one person works from home or is retired. Sasha does really well when she's left alone for short periods of time (a few hours here and there), but she's not accustomed to staying home alone all day. She is extremely good in the house – totally house trained, doesn't chew on things, doesn't tear things up. She likes to snuggle and will even get in your lap for loving. She's a happy girl and has learned our routines and settled in very quickly.
Her new home needs to really enjoy playing fetch, because fetch (outdoors with balls, indoors with toys) is by far her favorite game. She needs to be in a home where she'll be allowed on the furniture as she fancies herself a lapdog and she adores being near her people. She walks wonderfully on a leash, but she shouldn't be walked anywhere that loose dogs could possibly run up to her. She handles meeting new people very well and would most likely be very comfortable in an urban environment.
If you're interested in adopting Sasha, you can read all about the home we're looking for and download an adoption application here.