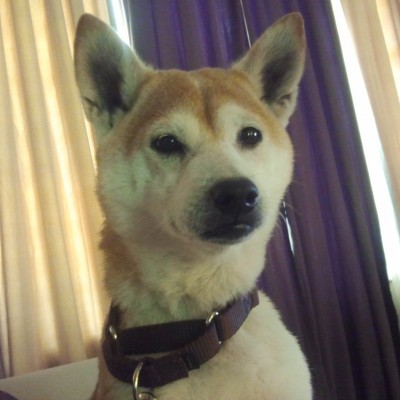 Sasha is such a sweet, loving little Shiba girl. She seems to me to be one of the most adoptable Shiba Inu I've ever fostered… except for her age. You hear so many stories (some of them from me!) about Shibas being standoffish, stubborn, and bull-headed. This little girl is none of those things. All she wants is to be near her person. If we aren't playing fetch in the yard, we're playing tug and fetch in the house, or we're snuggling on the couch. (Or, unfortunately, she's trapped behind a baby gate while I spend time with my three dogs. When she can't be with me, she cries and gives me this sad look that melts my heart.)
Age is Just a Number
It can be so hard to place dogs past 7 or 8 years old… it seems that everyone wants a younger dog. There are so many advantages to adopting a dog like Sasha though. Yes, she's 11 and that means her life expectancy is only about 5 more years, BUT she's house trained and crate trained, she won't chew your shoes, or poop in your house, she's calm, and she's loving… so much more affectionate than a youngster is capable of! She has so much to give and would be so grateful to have a forever home with someone who doesn't have to divide their time between her and other dogs.
This isn't the best video, but I shot this in the yard yesterday to show what an athletic little dog she is. Sasha would love to have a human companion to go on walks with, to play fetch with, and to give all her love to. Could you be that person?
---
If you're interested in adopting little Sasha Bean, please read all about the home we're looking for and download an adoption application here.