Having grown up in the rural south, the first time one of my New Yorker friends mentioned doggy daycare to me, I was astounded. Why would you pay for such a thing??? Heh. Little did I know that in a few short years I would be doing exactly the same thing! (See Snick's recent post about how he spends his days for more info on that.)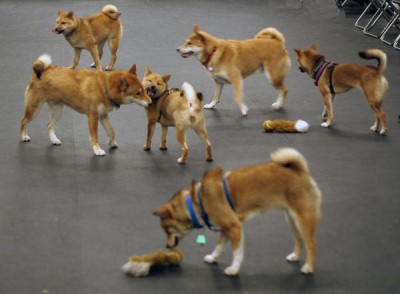 Shibas being Shibas, I've met a lot of people over the last few years who were surprised Snick goes to daycare, but HE LOVES IT! His daycare in Chelsea called him "a party animal" because he would come in the door a bundle of non-stop energy and keep it going till I showed up to get him 11+ hours later. He had just as much fun at his daycare in Indiana as well. I was worried the first day I took him… he'd grown up at the daycare in Chelsea, but I wasn't 100% sure how he would react to a room full of new dogs in a new place. I shouldn't have worried. Snickers = PARTY ANIMAL at daycare anywhere apparently. I went out of my way to take him to daycare occasionally there, even though I was home all day, simply because he enjoyed it!
I feel like going to dog runs and to doggy daycare was an important part of Snick's socialization and part of why he's so good at handling different situations. On the other hand, I realize what I first thought about "they're pack animals, they should play in groups" doesn't necessarily fly. Throwing a bunch of random dogs together in an enclosed space (run or playroom) is about as non-pack-like as you can get. A pack is like a family with a cohesive structure, rules and hierarchy. A playgroup may work out some quick and dirty rules, but nothing long term. I wonder if everyone other than the extremly self-confident dogs must feel very overwhelmed in situations like that. I'm not really sure and it makes me wonder if daycare may be right for a much smaller percentage of dogs than I originally thought. (Case in point: Secret is uneasy at the dog run and would most likely HATE doggy daycare.)
So, what do you guys think about doggy daycare?
Do you use a daycare?
Why or why not? How often?
Do you think your dog enjoys it or do you only do it out of personal necessity?
How do you deal with the vaccination requirements?
Do you worry about aggressive dogs at daycare?
Do you check in on your dog a lot or just let him party?
Do tell!