About a week ago, Snick posted about how he spends his days and of course he included how much he loves to go to daycare to play. That led to a discussion a couple days later about the pros and cons of doggy daycare. To round out the topic, today we're interviewing dog trainer, Colleen Safford, of New York Walk & Train.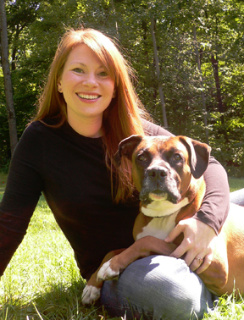 Jenna
: Colleen, you have extensive experience with dogs, including in daycare/boarding environments. Do you feel doggy daycare is recommended for all dogs?
Colleen: While it's lovely to see more options available for "spoiling" our pups, a responsible owner will take time to consider whether daycare is a healthy and safe option for their dog. Unfortunately, this decision is often made based on a guilty conscience. Often owners feel guilty for leaving their pups home during the work day. Ignoring your pup's personality however is unfair to both your pup and other guests of the daycare.
Dogs are equipped with a full range of personalities, and not all personalities are suitable for daycare. Shy and fearful dogs may be overwhelmed when left for numerous hours in a stimulating facility. Over excitable and easily agitated dogs may also find this environment hard to settle into without incident. There is a lot of coming and going in daycare facilities and this tends to keep canine adrenaline running high.
As a general rule, if you feel like you are working overtime emotionally or physically each time your dog interacts with other dogs on the street or in the dog run, you should probably think twice.
As much as we love our dogs (quirks and all), if your dog exhibits excessive humping, barking, rough play or extreme shyness it is a bad idea to send him/her off to daycare.
The ideal daycare candidate is a dog who socializes well with dogs of all sizes, breeds and temperaments. This dog can "speak Dog" effectively and without incident. He understands when another dog wants to play and also knows when to back off. In the reverse he is capble of communicating his desire to play and to rest calmly.
---
Jenna The ideal daycare candidate is one who socializes well… Would you suggest sending a puppy to daycare as a socialization tool? What about a shy or aggressive puppy?
Colleen: There is no doubt that early socialization is crucial to a developing a healthy pup. That being said, a responsible puppy parent will want to play a key role in the socialization process. It is up to the owner to expose a puppy to new settings and dogs. A full day at daycare is likely TOO much. Puppies need exercise, but also have high sleep needs (something not easily done in most daycares).
In the younger months, gaining socialization through training classes and play dates is the more advisable route. Most daycares will not except pups under 5.5 months of age.
When getting started with daycare, drop your pup off for only 1-3 hrs.
---
Jenna: What tips do you have for doggy parent's trying to find the right daycare for Fluffy or Fido?
Colleen:
Research – Give yourself time to visit a few facilities. Ask for a tour of the entire facility. Find out where your pup will eat and rest during her/his time there.
Assess the Environment –

Does the environment seem clean?
What are the the sound levels like (lots of barking?),
Do the play spaces seem of adequate size (or do they seem crowded?)
Is the staff engaging with the animals in a calm and proactive manner? A good daycare attendant gives ample attention, but also keeps the group calm.

Ask Questions – What is the human to dog ratio? How is your staff trained? What emergency plans plans do you have in place if my dog becomes sick or injured? How will my dog spend his day here? How do you handle dog fights? What happens if a dog is suspected of being sick?
---
Jenna: What do you see as the top three benefits of sending a dog to daycare?
Colleen:
Exercise!
Socialization for appropriate dogs.
Alleviates scheduling conflict for owners
---
Jenna: I really like how you think – exercise and socialization first, the owner's convenience after. (LOL) So, what are some possible drawbacks to daycare?
Colleen:
Allows an unsuitable dog to practice undesirable behaviors that turn into bad habits!
Over stimulating environment may deprive a dog of necessary sleep.
Untrained staff may inadvertently reinforce undesired behavior (impulsive behaviors like barking and jumping)
---
Jenna: Colleen, thank you so much for taking the time to do this interview! Do you have anything else you would like to add?
Colleen: If you decide to send your pup to daycare, I advise a rotational schedule. Two to three days at daycare and two to three at home resting.
If you feel the need to send your pup to daycare daily, I would suggest asking the daycare to give your pup a period or two each day of rest. This will allow your dog to restore for the next big play session.
About Colleen Safford
Colleen Safford is a dedicated dog owner; a formally educated dog trainer; and the owner of New York Walk & Train, a NYC dog walking, boarding and training business. Colleen received a degree in Psychology from The Ohio State University. She is dedicated to using training methods based on the principles of learning theory to ensure that training is simple &amp fun for both dogs and their humans.
Colleen was certified by the Delta Society as a Pet Partners Team Evaluator and Instructor. In addition, she has served as the Chairperson of the Sponsorship Committee for the Association of Pet Dog Trainers (APDT). Colleen teaches puppy classes, private lessons & therapy dog class with Andrea Arden Dog Training. She is committed to raising awareness about animal shelter over population, and is a volunteer with the Animal Haven Adoption Center. Colleen is proudly owned by Luna, a rescued boxer!